4-colors 1000mm CI Type Flexo Printing Machine
4-colors 1000mm CI Type Flexo Printing Machine
This central impression (central drum)flexographic printing machine is suitable for printing such packing materials as polyethylene, polyethylene plastic bag glass paper and roll paper etc. And it is a kind of ideal printing equipment for producing paper packing bag for food, supermarket handbag, non-woven bag, vest bag and clothes bag, etc.
1.Central impression type printing machine with better color registration. Due to the big drum, the printed material is supported by the big drum, and greatly improving color registration, especially with extensible materials.

2.All colors printing station drived by the central drum, Less transmission errors because of less gear transmission, increase the registration precision.

3.Adopting high-quality motor, high-quality inverter, save the electricity, reduce the run fluctuation.

4.When the machine is stopped working, printing rolls still keep moving; when rise the printing roller ,ink motor running automatically ;when fallen the printing roller, ink motor stop running automatically.

5.The machine is equipped with blower and heater; and the heater employed central temperature control system, automatic temperature controller, and separated heat source.

6.The use of individual drying oven and cold wind system can effectively prevent the ink adhesion after printing.

7.Roller adopts special steel processing, and through special treatment, greatly reduce the beating range.

8.Printing roller uses static balance and dynamic balance processing, hard anode oxidation treatment, small resistance, beating small, achieves finally perfect printing effect.

9.Accurate printing effect achieved by special gear transmission device.

10.The printing machine all can choose advance configurations to achieve the high quality, the high-definition effect.
Main Parameter
Technical Specification

Model

YTC-41000

Material feeding width

1000mm

Max Printing Width

960mm

Colors

4colors

Material

Non-woven fabric. Paper. Film. Aluminum foil. PVC.OPP.PE.BOPP.PE.NY.PET.CPP.

Thickness of plate

1.7mm 2.28mm 3.94mm
Customized is available

Printing length

Standard is 400mm,
Customized is available from 280-1000mm

Maximum machine speed

150m/min

Printing speed

120m/min

Register precision

±0.02mm

Structure type

Central impression(central drum)
Introduction
Suitable Material



Kraft paper:40-350g/㎡ single-sided coated paper:30-350g/㎡ copy paper:15-350g/㎡ firecrackers and paper:40-350g/㎡ paper money and incense:25-350g/㎡ silicone paper:50-350g/㎡ coated paper:30-350g/㎡ dust-free paper:25-350g/㎡Release paper:40-350g/㎡ composite paper:30-350g/㎡

woven:15-120g/㎡ Weave fabric:15-500g/㎡

PVC:10-120g/㎡ OPP:10-120g/㎡ PE :10-120g/㎡PET: 10-120g/㎡CPP:10-120g/㎡



Feeding Material Part
1、roller length: 1000mm

2、effective printing roller length: 960mm

3、roller core diameter: 76mm

4、discharge maximum diameter: 1000mm
Printing Sections
1、printing consists of: central drum, plate roller, ceramic anilox roller, chamber doctor blade.

2、plate roller circumference: 280-1000mm

4、Transmission: central drum with big gear drive the printing station.

3、print material: resin plate or rubber plate

5、printing chromatography: 360-degree rotation

7、Printing roller lifting system: Automatic Hydraulic cylinder control roll up and down.

6、adjustment method: By Manual (Automatic printing after adjust by manual, when start machine, no need register color again, the printing pressure and register all keep the same.)
Electrical Parts
1、Main Motor: 5kw

2、Ink Motor: 0.75kw

3、Speed using frequency converter control
Rewinding Part
Its time to put on makeup. Its time to dress up right. Its time to raise the curtain on the Muppet Show tonight. The mate was a mighty sailin man the Skipper brave and sure.
1、roll core diameter: 76mm

2、discharge maximum diameter: 1000mm

3、Rewinding type: Big roller friction rewinder.
Related Product
4-colors 1000mm High-speed Flexo Printing Machine
This machine is suitable for printing such packing materials as polyethylene, polyethylene ...
Learn More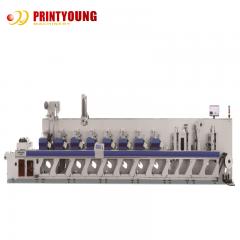 PRY-350G Flexo Printing Machine ---A tribute of High Performance and Humanization
The PRY-350G flexo press is a pay-back investment for any company looking for high ...
Learn More